March 15, 2021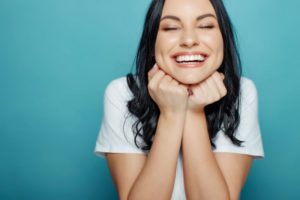 For such a common, natural gesture, smiling comes with several benefits aside from simply letting others know that you're in a good mood. However, it can be difficult to find a reason to show off those pearly whites if they suffer from stains, chips, gaps, or other imperfections. Thankfully, cosmetic dentistry can help you enjoy the benefits of smiling. Read on to learn four ways that flashing your grin can improve your health – and how your dentist can give you a smile you can be proud of!
4 Benefits of Smiling You Might Not Have Heard
Here are four things that can happen when you turn your frown upside down:
You'll broadcast confidence – People are naturally drawn to those who project a friendly, confident nature. By smiling often, you'll create an image of yourself that can open doors for you in your personal and professional lives.
Your mood will be elevated – Moving the muscles involved in smiling, even if you don't particularly feel like it, triggers the production of feel-good brain chemicals.
You'll be less stressed – Smiling after completing a stressful task reduces your heart rate more quickly, lowering overall stress levels.
Your immune system will become stronger – Laughter increases the white blood cell count in the body, making it easier to fight off foreign pathogens.
Now that you know about the benefits of smiling, you see why it's important to have a set of pearly whites you can be confident about!
How Your Cosmetic Dentist Can Enhance Your Smile
Based on the specific flaws you wish to fix, your cosmetic dentist may recommend one or more of the following services:
Veneers – To instantly give a tooth a perfect appearance, your dentist can place a porcelain sheath called a veneer over it, covering all of its aesthetic imperfections.
Cosmetic dental bonding – Your dentist can quickly and affordably correct minor chips, cracks, stains, and more using tooth-colored composite resin.
Teeth whitening – Whether you choose in-office or take-home treatment, professional teeth whitening will deliver results that store-bought products simply cannot.
Gum recontouring – If you're self-conscious of your "gummy" smile, your dentist can painlessly remove excess gum tissue to even out your grin.
With all of the ways smiling can help you, why not make yours look as great as can be? Schedule a consultation with your dentist today to learn more!
About the Author
Dr. Huy Nguyen has almost 25 years of experience in the dental field. He began his career in oral healthcare as a dental assistant before earning his Doctor of Dental Surgery degree from the University of Texas Health Science Center at Houston School of Dentistry. At Town Square Dental in Pasadena, TX, he helps patients achieve bright, confident smiles. He offers all of the cosmetic dental services described above and more. To learn how you can enjoy the benefits of smiling for yourself, visit Dr. Nguyen's website or call his office at (713) 489-1969.
Comments Off

on 4 Surprising Health Benefits of Smiling
No Comments
No comments yet.
RSS feed for comments on this post.
Sorry, the comment form is closed at this time.