January 28, 2021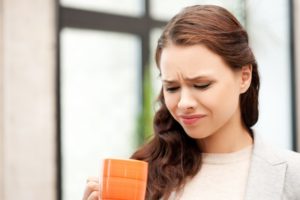 Does it ever feel like you constantly have a bitter taste in your mouth? This may be a normal reaction to eating foods that are pungent or sour. However, if the feeling persists or happens out of nowhere, it could indicate a concerning oral health problem. Here are some of the possible answers to the question, "Why do I always have a bad taste in my mouth?" as well as some advice on how to remedy the situation.
Possible Reasons for a Bad Taste in the Mouth
A frequent bitter taste in the mouth can be caused by a variety of conditions, some of which include:
Dry mouth – Also known as xerostomia, dry mouth occurs when the mouth does not produce enough saliva. Because saliva washes away excess bacteria, inadequate levels of saliva in the mouth allow oral bacteria to thrive. Dry mouth could be the result of tobacco use, medications, certain medical conditions, or breathing through the mouth due to a stuffy nose.
Gum disease – A bacterial infection in the gum tissue supporting the teeth may also cause a foul taste in the mouth.
Pregnancy – During the first trimester, many pregnant people complain of a bitter or metallic taste in the mouth. It may be caused by the fluctuation of hormones in the body.
Menopause – Similarly, hormone levels fluctuate during menopause, which may cause dry mouth or create a bitter taste.
GERD or acid reflux – Gastroesophageal reflux disease (GERD) or acid reflux occurs when the muscle at the top of the stomach weakens, allowing acid to rise up into the esophagus. This may cause a burning sensation in the chest as well as a bitter taste in the mouth.
Stress or anxiety – High levels of anxiety can stimulate the production of stress hormones in the body, altering your sense of taste. Anxiety can also cause dry mouth.
What to Do If You Have a Bad Taste in Your Mouth
Treatment for a bitter taste in the mouth typically involves addressing its underlying cause. Your dentist or doctor can often diagnose the issue by asking you questions about your other symptoms and recommend suitable treatments from there.
Depending on the reason for the bad taste in your mouth, here are some ways you can find temporary relief:
Brush your teeth twice daily. Floss and rinse with antibacterial mouthwash at least once every day.
Chew sugar-free gum or suck on sugar-free candies to stimulate saliva production in the mouth.
Sip plenty of water throughout the day.
Avoid risk factors that can worsen acid reflux, such as drinking alcohol, using tobacco products, and eating spicy or greasy foods.
A bad taste in the mouth is a fairly common condition with many possible reasons behind it. Contact your dentist or doctor today to get your problem diagnosed and your smile feeling normal again!
About the Author
Dr. Huy Nguyen is a dentist in Pasadena, TX with almost 25 years of experience. At Town Square Dental, he provides a variety of services, such as gum disease therapy, that can treat the underlying causes of a bad taste in the mouth. To learn more about why you have a bad taste in your mouth and how to treat it, visit Dr. Nguyen's website or call (713) 489-1969.
Comments Off

on Why Do I Always Have a Bad Taste in My Mouth?
No Comments
No comments yet.
RSS feed for comments on this post.
Sorry, the comment form is closed at this time.