October 13, 2020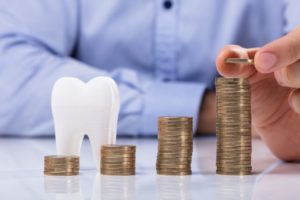 Right now, everyone is looking for ways to save money. If you're looking to bulk up your savings, you probably already know to start by cutting back on unnecessary expenses. As you're determining what you can do without, don't try to save money by canceling your dental checkups and cleanings! Even if your teeth look and feel fine, these simple visits can save you a substantial amount of money and time in the long run. Here are four ways dental checkups benefit both your smile and your wallet!
1.) Prevent Costly Problems in the Future
When it comes to oral health, the saying "An ounce of prevention is worth a pound of cure" holds true. Common issues like cavities and gum disease can progress unnoticed and lead to painful, expensive complications if left untreated. However, regularly visiting your dentist can catch these issues while they're small and affordable to treat, or better yet, stop them from developing in the first place! It's estimated that for every dollar spent on preventive dental care, up to $50 can be saved on treatments later.
2.) Save Money on Cosmetic Treatments
Thanks to modern dental techniques and technologies, there are plenty of cosmetic services that can correct chipped, cracked, stained, or otherwise flawed teeth. However, you can help keep your smile sparkling, strong, and intact with regular preventive care and cleanings from your dentist. Checkups will typically cost you less than cosmetic services, especially if you have dental insurance!
3.) Avoid Expensive Dental Emergencies
Try as we might, not every broken or knocked-out tooth can be avoided. But you can dramatically lower your chances of a dental emergency and the expenses that come with treating one with regular dental checkups. Biannual visits give your dentist a chance to identify any factors, habits, or developing issues that may be putting your smile at risk of damage or infection. Even if your smile seems healthy, these quick visits can help you avoid an expensive dental emergency in the future.
4.) Spend Less on Overall Healthcare Costs
Did you know that the health of your teeth and gums influences the wellbeing of the rest of your body? Countless studies have linked poor oral health to an increased risk of systemic conditions such as respiratory infections, rheumatoid arthritis, diabetes, and heart disease. In fact, recent studies discovered that those with a healthy smile tend to pay less for cardiovascular care than those with poor oral health.
Two quick and simple dental checkups each year can save you a tremendous amount of time, money, and hassle! If you're concerned about the cost of caring for your oral health, talk to your dentist about which dental insurance they accept and what financing options are available.
About the Practice
Dr, Huy Nguyen and his team at Town Square Dental are committed to helping the smiles of Pasadena and the surrounding communities stay happy and healthy for life. They strive to make oral health care as easy and pleasant for their patients as possible with an inviting and comfortable atmosphere, on-time appointments, and the latest technology for the most comfortable treatments. They accept a variety of dental insurances as well as financing options from CareCredit. To learn more about how affordable it can be to care for your smile, they can be contacted via their website or at (713) 534-8800.
Comments Off

on Want to Save Money? 4 Reasons to Visit Your Dentist!
No Comments
No comments yet.
RSS feed for comments on this post.
Sorry, the comment form is closed at this time.