August 17, 2020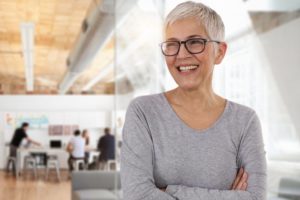 When you get a missing tooth replaced with a dental implant, your dentist will restore it with a dental crown that looks exactly like the tooth you lost. People shouldn't even be able to tell the difference between your implant and the rest of your pearly whites. While dental implants might look natural, do they feel natural too? Keep reading below to find out.
Dental Implants: An Overview
A dental implant is the only tooth replacement option that replicates the entire structure of a missing tooth. In addition to the restoration on top, an implant is comprised of a screw-shaped titanium post that is surgically placed into the jawbone. Because titanium is biocompatible, it fuses to the bone, essentially becoming a part of your own anatomy. This creates a powerful bond that can last for years, even decades, to come.
Do Dental Implants Feel Natural?
Inside the roots of your natural tooth are nerves that can feel sensations like heat, coldness, and pressure. While the implant mimics the structure of your tooth's roots, it does not contain any nerves, so you won't experience any of these sensations. If you do feel any of these things, it will come from the gum tissue surrounding your implant, but not the implant itself.
However, this doesn't mean your implant won't feel natural. Like the roots of your tooth, the implant becomes a part of your jawbone. Whenever you use the implant to bite or chew, it directly stimulates your jawbone in the exact same way that your natural tooth did. This strengthens your jawbone, preventing the problems that can arise from jawbone deterioration, such as further tooth loss, gum disease, and sagging or wrinkling of the facial tissues.
Other Benefits of Dental Implants
In addition to looking and feeling just like one of the pearly whites you were born with, dental implants offer multiple benefits, including:
Having a success rate of over 95 percent, even after more than 10 years
Being sturdy enough to allow you to chew even the crunchiest foods
Filling the gap in your mouth and preventing the adjacent teeth from drifting out of place
Letting you smile with confidence again
Being incredibly easy to maintain – just brush, floss, and see your dentists for regular checkups
Not harming your surrounding missing teeth like dental bridges do, as implants are completely self-supporting
Within just a few short weeks of getting your dental implant placed, you shouldn't even be able to notice a difference between your implant and the rest of your teeth. If you're interested in rebuilding your smile with the next best thing to your natural teeth, ask your dentist if dental implants are right for you.
About the Author
Dr. Huy Nguyen has almost 25 years of experience working in the dental field. After earning his Doctor of Dental Surgery degree from the University of Texas Health Science Center at Houston School of Dentistry, he underwent advanced training to be able to place dental implants himself. Instead of having to refer you to an outside specialist, he can perform the entire treatment process under one roof at his Pasadena, TX practice. To learn whether you're a good candidate for dental implants, contact Town Square Dental at (713)-534-8800.
Comments Off

on Do Dental Implants Feel Natural?
No Comments
No comments yet.
RSS feed for comments on this post.
Sorry, the comment form is closed at this time.