July 17, 2020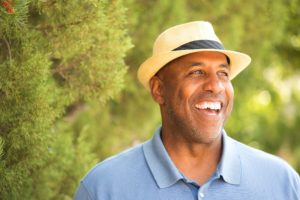 If you're missing even one tooth, it can cause the health of your entire mouth to go out of whack. That's why your dentist recommends getting missing teeth replaced as soon as possible. The solution that offers the most benefits by far is dental implants. After all, they're the sturdiest and longest-lasting option. But just how safe are they? Let's take a closer look at what exactly dental implants are, what risks they can pose, and whether they're worth it in the end.
First, What Are Dental Implants?
A dental implant is a small titanium post that mimics the root of your lost tooth by being surgically installed into your jawbone. From there, it fuses with the bone, creating a strong foundation for the lifelike dental crown, bridge, or denture that will go on top of it. Not only does this mean your new teeth will be quite stable, but the implant stimulates jawbone growth, preventing the bone deterioration that often occurs after tooth loss.
Potential Dental Implant Complications
In the vast majority of cases, dental implants are placed without a hitch. However, some complications can still pop up. They include:
Infection. The most common reason for implant failure is an infection of the gum tissue surrounding the implant. This typically develops due to inadequate oral hygiene after implant placement.
Rejection. During the three to six months it takes for the implant to integrate with your jawbone, certain factors can cause your body to reject the implant. These include habits like tobacco use and medical conditions like uncontrolled diabetes.
Breakage. Biting or chewing too forcefully with the implant can cause the implant post or the abutment (the metal piece connecting the implant to the restoration) to fracture. This is most common within the first year after receiving implants.
Are Dental Implants Worth It?
As the most beneficial method of tooth replacement, dental implants are definitely worth the risk. This is especially true because the aforementioned complications are extremely rare. In fact, dental implants have a success rate of more than 95%, even after three decades. Compared to other options, such as bridges or dentures, implants offer more stability, longevity, and chewing power, as well as easier maintenance.
Even if you're still undecided about getting dental implants, it's a good idea to book a consultation with your dentist. They can tell you more about the benefits implants offer, how long the treatment process will take, and whether implants are just the thing your smile needs.
About the Author
Dr. Huy Nguyen earned his Doctor of Dental Surgery degree from the University of Texas Health Science Center at Houston School of Dentistry. Thanks to his advanced training, he is qualified to place and restore dental implants in his own practice without referring you to an outside specialist. To learn more about whether dental implants are right for you, visit Dr. Nguyen's website.
Comments Off

on How Safe Are Dental Implants?
No Comments
No comments yet.
RSS feed for comments on this post.
Sorry, the comment form is closed at this time.